Hey Everyone!
I've recently been given a unique opportunity to help with a new company's marketing campaign. The company is called
Man Crates, Gifts For Men
and they ship fun gifts for men in custom wooden crates that you
even
have to open with a crowbar! Their mission is to end the difficulties that have long been associated with buying gifts for men.
To coincide with their "Man Cave Makeover" Campaign, I've been asked to create a design board featuring gifts a guy could use to decorate his man cave; taking it from lame to stylish!
The man cave is a ritualistic spot where men retreat in order to watch sports with friends, spill beer, shout at the TV, and tell the same 8 stories over and over again. Man caves come in all sorts of interesting shapes and spaces, be it in a basement, a garage or the classic shed. However, as original as these spaces are, when it comes to decor they tend to all look the same. A cheap neon beer sign (or beer mirror), a dart board and of course a mini fridge. That is the case NO LONGER (or at least at my house, hehe!)
I used my hubby as inspiration and created the following mood board! Hope you enjoy!
Good, right?! Let's start with the foundation. I chose Edgecomb Gray by Benjamin Moore the walls. It's a nice neutral backdrop, perfect for a dark cave-like basement.
I chose an
indoor/outdoor rug
from Overstock to combat those beer spills! It's currently on sale and you can snag a 6'7"x9'6" size for $141.94 - what a steal!
I wanted the lighting to have an industrial feel. I love this
Pendant Light DIY
by Design Dump using a cheap
Home Depot light fixture
. I may just have to recreate this someday! I also LOVE this
Industrial Grid Wall Sconce
from West Elm. It feels like modern version of a neon sign you'd typically see in a man cave!
This
leather sofa
from Macy's is perfect for stain-resistance and durability AND it is still stylish. The clean lines give it a modern feel and the warm caramel color keeps it from looking too dark and dated. It's a far cry from the typical bulky, shiny leather couches most man caves have.
These pillows add a pop of color to the room and are also a great price! (
here
and
here
)
Hanging above the sofa I chose a
vintage postcard
of Glacier National Park, which is one of Justin's favorite places. All it needs is a nice matted frame to make a larger statement. Next is this drool-worthy Nate Berkus
wood/studded mirror
. I wish I had a spot in my house for this guy! And last but not least, this creepy
teddy bear photograph
by Kent Rogowski! The artist dissected the bear and sewed him back together inside out. You may think I'm weird for choosing it... BUT when I first saw it, I was reminded of the teddy bear on Breaking Bad (Justin's FAVE show)... don't you think?!?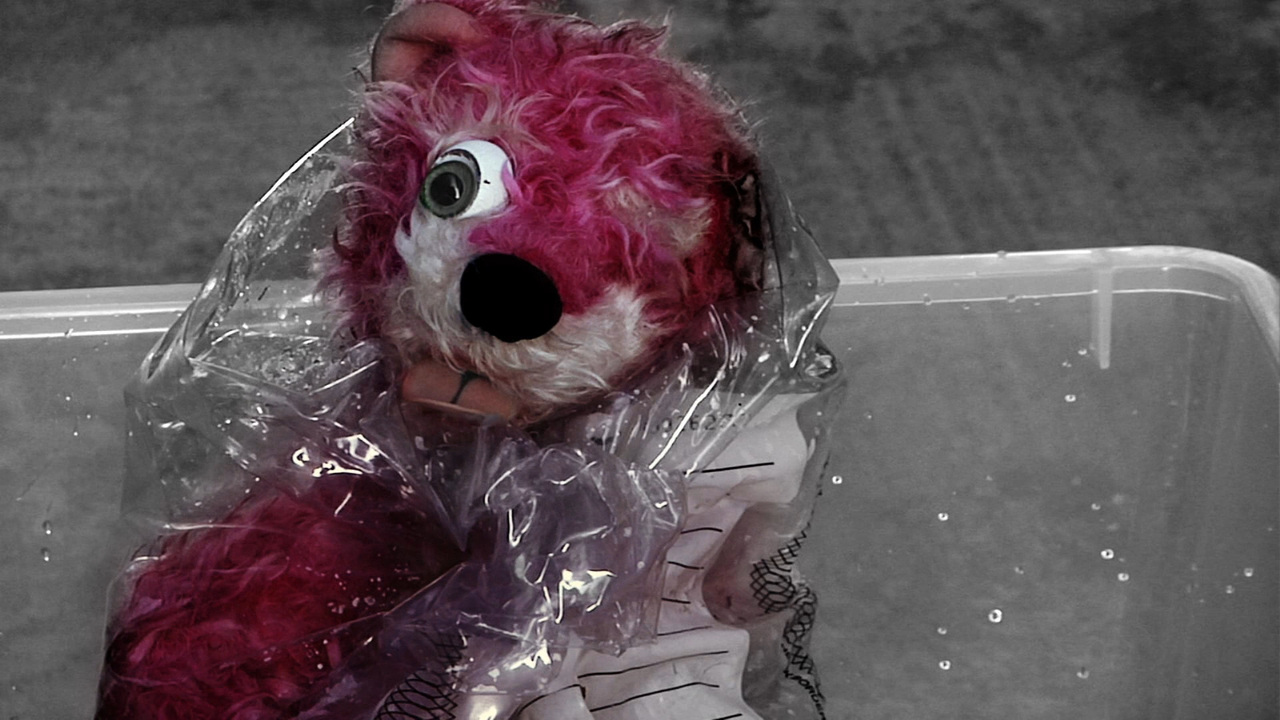 Maybe just a little? Well anyway, I like to keep things a little weird, and he matches my red shelving unit!
This
coffee table
from World Market provides warm wood tones to the room and is sturdy enough to withstand those rowdy game days.
This
slate coaster set
from West Elm is the perfect masculine touch and will keep your coffee table free of ring marks. Bonus: they can also be monogrammed! This
book
from Crate and Barrel chronicles nearly 500 beer cans collected from 30 countries - a fun read for beer lovers :) andddd it's on clearance.
This Target metal
accent table
is a great price. The brass color gives the room more warmth and it is virtually indestructible! Just add a little braided hardy
succulent
for some color!
Now for my favorite part! I got my hubby this
record player
(in a different color) a few years ago and he LOVES it. Not only does it look totally AWESOME, but it is also easily portable and has an auxiliary connection so you can plug in your iPod! We listen to records all the time now. The
Ikea Kallax
shelving unit is perfect for record storage (Justin has TONS) and I love this glossy red color they offer - and SUCH a great price at $64.99.
Records are always a great gift for guys (if they have a player, of course!) Here are a few recommendations for the indie rock lover in your life! (
Beck
,
Flaming Lips
, and
Goastt
)
Well that's it! What do you think? I'd love to hear your comments. Are there any unique gifts for men that you've seen lately? How would you decorate a man cave!?
Thanks for looking!
Emily